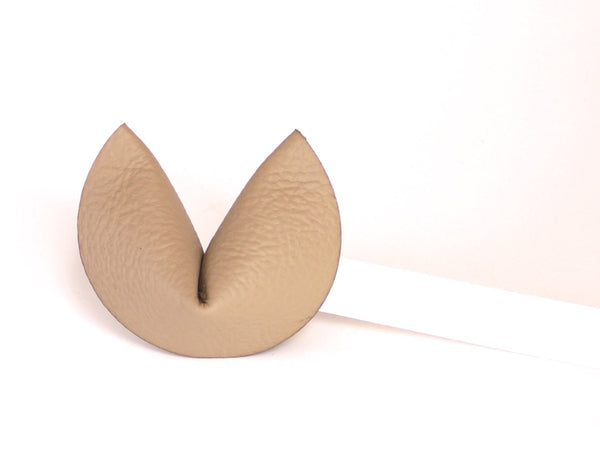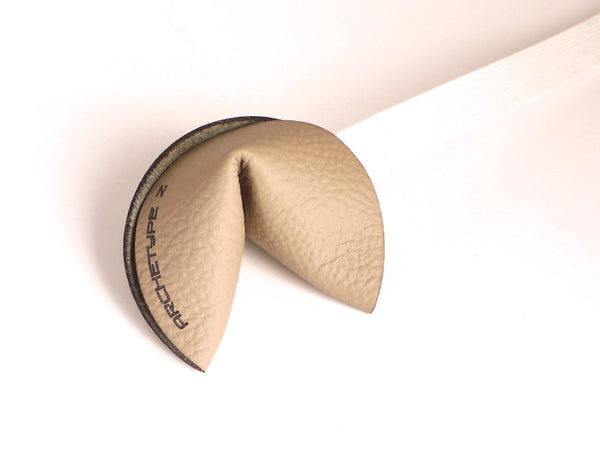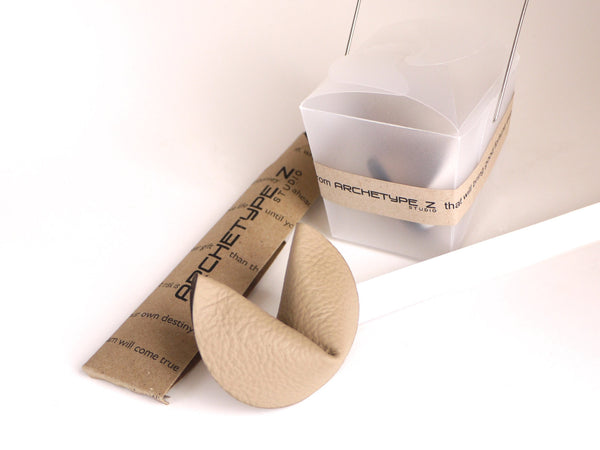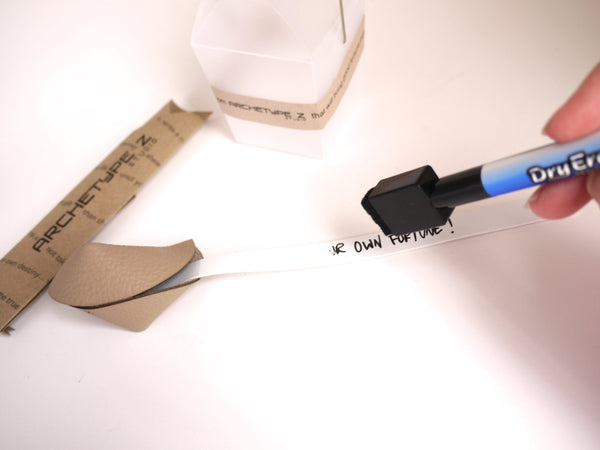 Re-writeable Fortune Cookie in tan leather
Regular price
$16.00
Sale price
$14.00
---
A Rewriteable Fortune Cookie in tan leather. Makes a great desk office gift, a gift for birthdays, graduations, etc. It can be personalized/engraved. Packaging and dry erase marker included.
To see how it works watch this short video clip: https://youtu.be/FOkg4yJvuCc
Have you ever been excited to open up a fortune cookie only to be disappointed by the fortune? If you had the Rewriteable Fortune Cookie you would never have to experience that disappointment again. Made from a laser cut tan leather with a whiteboard like fabric as the paper, the Rewriteable Fortune Cookie can be written on with any dry erase marker and erased with a soft cloth (or the included eraser tip).
Details:
- The cookie is made from a tan cow hide leather and the "paper" is a durable white fabric with a glossy side for writing.
-The fortune cookie has been laser cut and laser engraved with the Archetype Z logo on the bottom side (see photos). Everything is designed, cut, and assembled by me.
-You can get initials engraved on the upper side for free. Just select that option in the drop-down menu and include the initials in the notes when checking out (or send me a message after you order).
-Each fortune cookie arrives in it's own frosted plastic take-out container and includes a free dry erase marker with eraser.
-Tips and instructions are included in the folded paper "chopsticks" sleeve (no chopsticks included of course-- the paper holds the dry erase marker).
The fortune cookie is packaged in a frosted plastic take-out box and includes a free dry-erase marker with eraser in a kraft paper "chopsticks" sleeve. The sleeve can be opened to reveal some tips on how to best use the Rewriteable Fortune Cookie then folded back up into the sleeve.
Why read a fortune others have written for you when you can write your own-- over and over again! Write your own fortune, a note to yourself or someone else, or your mantra for that day.
Production Time: 1 Week
 Get free Domestic shipping (US only) on this item with code FREESHIPUSA
=============================================
Below is a copy of the instructions/tips included with the package.
A few tips for using your Archetype Z Rewriteable Fortune Cookies:
Only write on the white fabric of the fortune cookie (the tan leather is not rewriteable), and always use a dry-erase marker. Any other type of marker may leave a permanent mark.
To erase the ink, you can use the whiteboard eraser top of the pen or a soft cloth of your own.
As with all whiteboard materials, try to avoid leaving the ink on for more than a day as this makes it harder to remove.
If the ink is difficult to remove or you have issues with ghosting, simply write over the area with your dry-erase marker and immediately erase. This should remove most or all of the ink.
Over time whiteboard materials tend to discolor. Some of this is unavoidable but if you follow the tips above you can prolong the life of your Rewriteable Fortune Cookie.