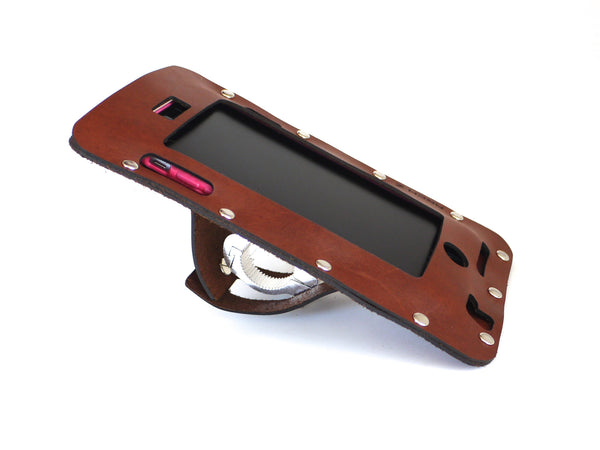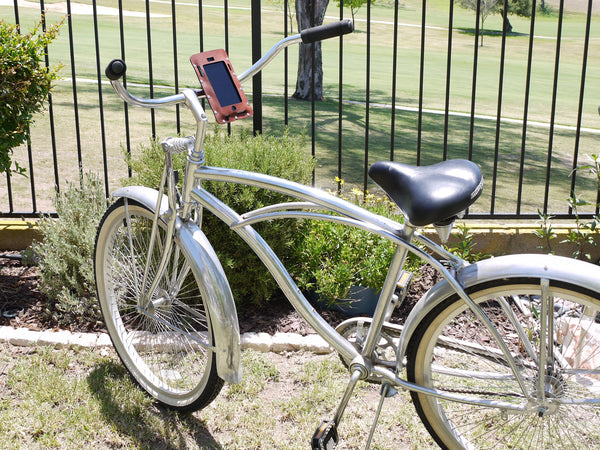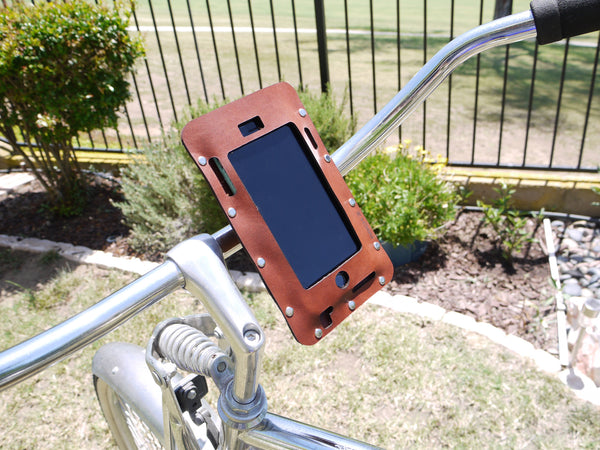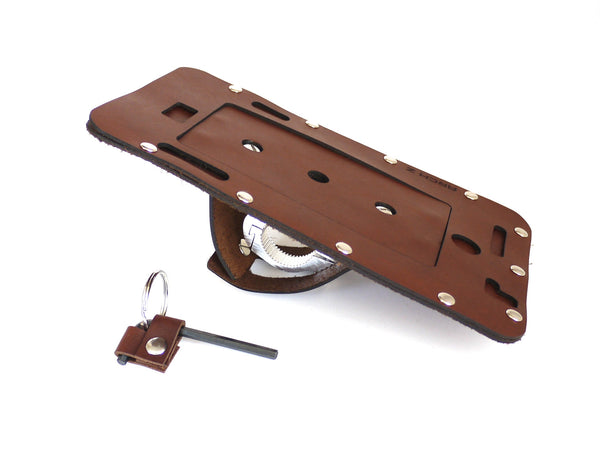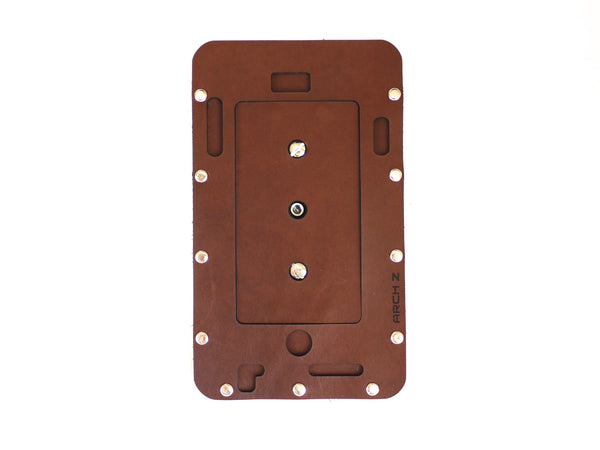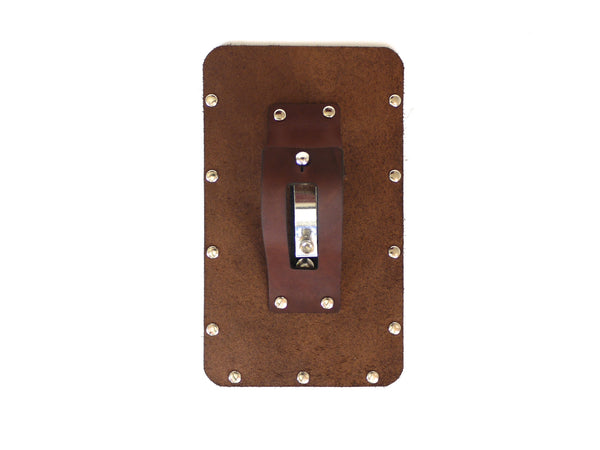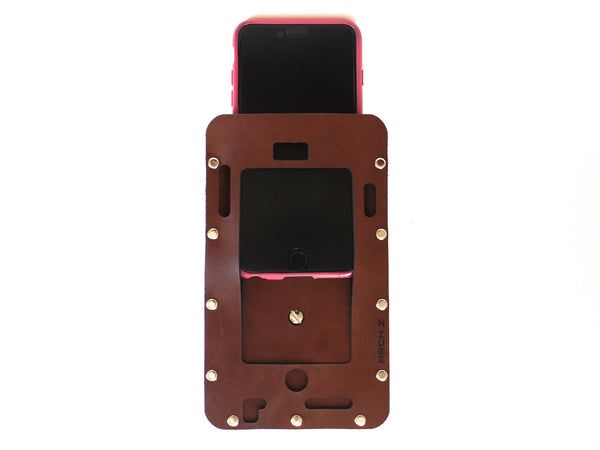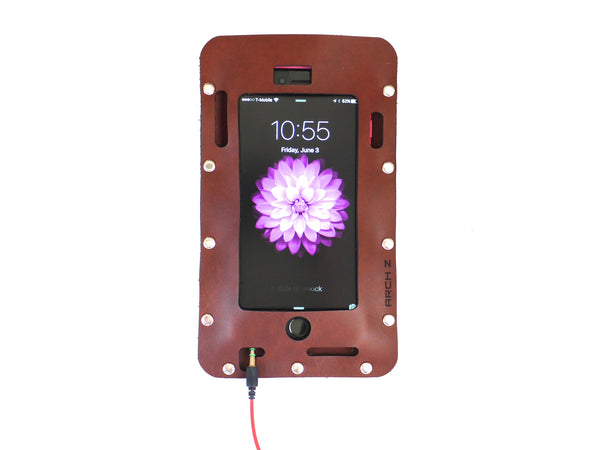 Bicycle iPhone Holder Mount in Brown Leather
Regular price
$48.00
Sale price
$39.00
---
Now with the Bicycle iPhone 7 / 6 S / Plus Holder in English Chestnut Brown Leather you can keep your iPhone within reach while going for a leisurely ride, and add a little retro style to your bike at the same time.

Details:


Made from a beautiful and durable 4-5 oz English Chestnut Brown Leather.
Attached securely along the edges with 11 rivets.
Holds an iPhone 7 Plus / 6S Plus / 6 Plus with a slim case and screen protector* OR Holds an iPhone 7/ 6S / 6 with a slim case and screen protector.* (For a super thick case contact me.)
Has cut-outs for the home button, power and volume buttons, the front facing camera, bottom speaker, and headphone port (works with headphones that have the small prong). Please note: it does not include an opening for the charging port.
Allows you to use GPS and other apps while on a leisurely ride (as with driving you should always pull over before attempting to map out directions).
Uses an off-the-shelf generic metal alloy bicycle clamp to attach to most handlebars that have a diameter of 0.8in to 0.95in / 2.0cm to 2.4cm.                  This applies to most beach cruisers and other retro style bicycles like urban city bikes that have the thinner handlebars. This won't fit mountain bikes as they have thicker handle bars (and this isn't intended for serious mountain biking-- casual bike rides only).
The metal alloy clamp has a thick plastic plate that attaches securely to the back of the leather sleeve with chicago screws (locked with Loctite Threadlocker glue).
Has a leather security strap with a button stud on the backside if the clamp were to ever get loose. (Again it's best to always ensure that the clamp screw is tight before riding.
The leather sleeve measures approximately 7.6 inches x 4.5 inches / 194mm x 115mm for the larger iPhone 6 S Plus (photos show this larger model)
or 6.9 inches x 4.1 inches / 176mm x 105mm for the smaller iPhone 6 S.
(Please check that you have the space on your handlebars for this.)
Includes an allen wrench key chain for tightening and loosening the clamp (always keep this with you to make sure your clamp is nice and secure).
Get it personalized! Engrave initials at the top left corner.** Include initials in the Notes field when checking out (or contact me after purchase).
Archetype Z logo (Arch Z) along the bottom right side.

*Not intended for use with a naked iPhone without screen protector as I'm concerned you may potentially scratch it when sliding it in and out of the sleeve.

**Personalized items not eligible for returns.


ORDER TODAY AND THIS ITEM IS EXPECTED TO SHIP BY:
Production Time: 3-5 business Days. When out of stock allow 1 extra week.

Design:
Recently I was making my sister an iPhone 6 Plus holder for her stationary exercise bike when I realized I should also be making one for myself to use on my beach cruiser. I did some research and found that very few bicycle iPhone holders are made for the larger iPhones and nearly all of the iPhone holders out there are made entirely of plastic -- which is fine in terms of function but they don't add much to your bike in terms of style. So I decided mine would be made of leather but would need to satisfy a few design needs. I needed the holder to hold the iPhone securely but have the screen (and buttons and most ports) be viewable and accessible. I needed to be able to slide the phone in and out of the holder at the beginning or end of rides. And I needed it to be held securely to the handlebars. After doing a little more research I found that I could adapt generic bicycle clamps typically used for water bottle cages and use them to secure the phone to the handlebars. After a few prototypes and some tests I ended up with the design you see in the photos. Now I can ride my bike along the beach and play my music, use the gps or fitness apps, or even take an occasional selfie.